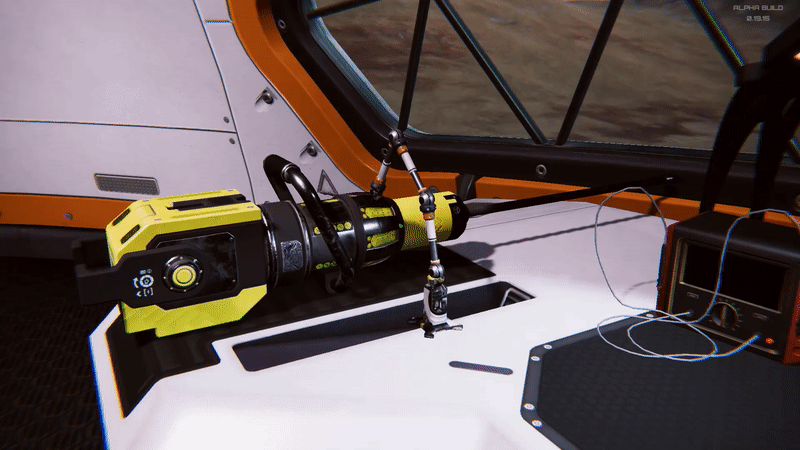 OM_Devlog #22: Upgrading tools using Workbench
Dear Martians!

The Workbench will allow you to upgrade various devices that you will use a lot on Mars, such as the jackhammer, grinder, blowtorch and spectral detector. It is equipped with a robotic arm for modifying tools.
At the beginning of the game, all the devices at your disposal are at the basic level (lvl 1). If you want to upgrade your tools to higher levels (lvl 2 and lvl 3), you'll have to meet specific requirements.
Upgraded devices:
Grinder – upgraded grinder will let you destroy buildings much faster and get more resources back.
Jackhammer – upgraded jackhammer will allow you to speed up the process of drilling through rocks.
Spectral detector – upgraded spectral detector will have an increased range and will make rock scanning quicker.
Blowtorch – upgraded blowtorch will let you build and repair constructions much faster.
Parameters:
Jackhammer, blowtorch, grinder – increased speed:
Lvl 1 – 100%
Lvl 2 – 150%
Lvl 3 – 200%
Spectral detector:
Lvl 1 – scan speed 0.5, detection range 250 units
Lvl 2 – scan speed 0.5, detection range 750 units
Lvl 3 – scan speed 2, detection range 1500 units
Additionally, the tools will have different colours depending on their level:
Lvl 1 – yellow
Lvl 2 – orange
Lvl 3 – red
Stay tuned for more updates and keep following us on social media! If you have any questions or just want to know more about the game, feel free to join our Discord channel!
Best Regards,
Ocuppy Mars Team