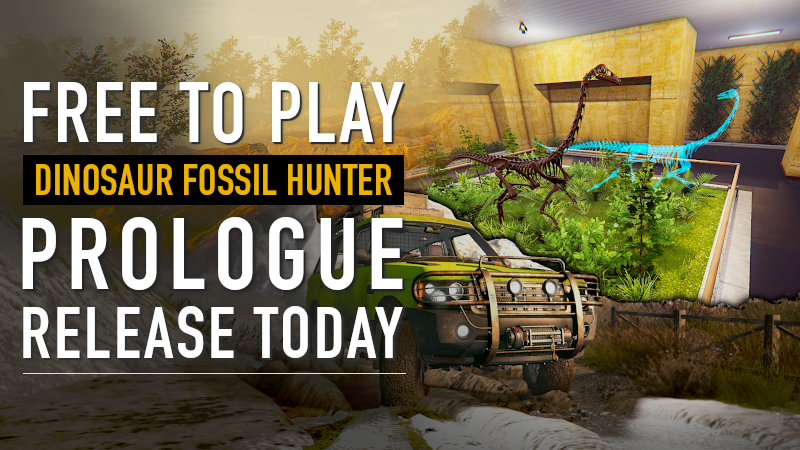 DFH_The Prologue Launch & Live Stream!
Dear Paleontologists!
Dinosaur Fossil Hunter: Prologue launches today: Aug 6th, 2020, at 5PM CEST!
But that's not all! We'll be streaming live today (Aug 6th, 5PM CEST), so join us for our live stream on one of the channels below:
Our teamwork in the field brings excellent effects! Together we're creating a video game about dinosaurs that the world hasn't seen before, dedicated from enthusiasts to enthusiasts! Based on the demo feedback, we've fixed many bugs, improved the museum workflow and added many other things in the official Prologue version.
You can find the detailed list of changes below:
New features:
minimap available while driving
bone cleaning progress bars visible during preparation
ability to rotate the skeleton during assembly
possibility to skip bone preparation
possibility to modify ground and add water to the exposition
new autosave points
new game cursor
new gameplay instructions
new bone cleaning stage + new tool
new scene: the garage & new dialogues
basic swimming mechanics
museum interior design system!
new transportation mechanics in the museum
descriptions of findings on crates
achievements added
Other upgrades:
upgraded bone cleaning steps
mouse look movement improved, optional smoothness
minimap upgrade
show/hide tablet with M button
3 crate slots visible in car at once
a more detailed tablet messages and tips
GPR georadar scanning indicator
plants can be placed closer to exposition border
upgraded 3d models and materials
new "first fossil" model
beach scene improvements
improved player and car camera position
better visibility of the fossils in the stone
detailed list of dinosaurs in the museum
upgraded fonts
new loading screens
new game icon
mode sounds
extra fuel 😉
Fixes:
fixed player locking at exhibition
fixed "bouncing car"
fixed "Exit with bone II"
fixed "gate axing the car"
fixed "exploding rock" at the mine
fixed inconsistency in the knowledge tab
fixed holding both plaster and fossil
fixed invisible car parts
fixed autosave screenshots
fixed floating excavation rock
fixed floating trees and terrain issues
fixed resetting quality settings and mouse sensivity
fixed cleaning controller
fixed picking up of partially covered stones
fixed respawn points positions
fixed car rotation after respawn
fixed camera position while assembling the hand bones
fixed oversized skip
fixed 2×4 vs 4×4 physics
fixed game settings
fixed typos
If you enjoy playing Dinosaur Fossil Hunter: Prologue and like the passion we've put into the game, please support us with your reviews and comments. The Prologue release is an important milestone for us, and now we are focusing on the main game.
Play the prologue and have fun!
Dinosaur Fossil Hunter Team