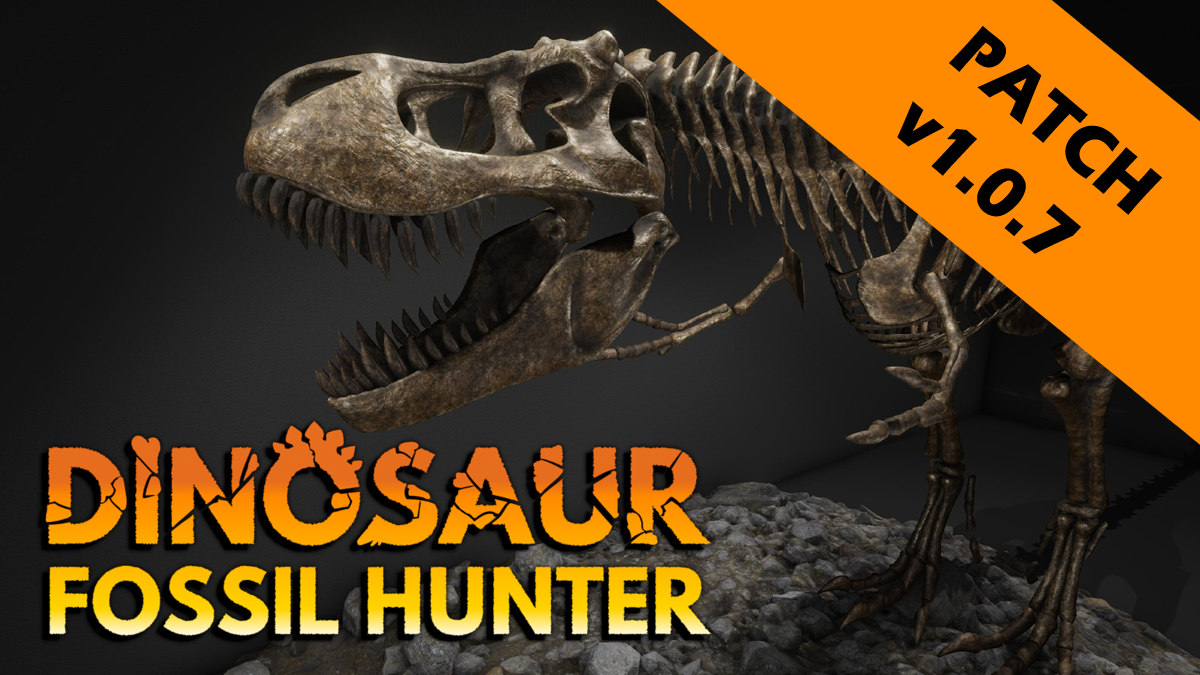 Dinosaur Fossil Hunter: Patch v1.0.7 is now live
Dear Fossil Hunters!
Thank you for all the feedback so far! We are working around the clock to keep releasing fast updates.
Changelog v1.0.7
Fixed related to gamepad controller support:
– Fixed main menu navigation on gamepad controllers
– Fixed drawing on gamepad controllers
– Fixed travel panel button in the tablet
– Fixed help panel navigation on gamepad controllers
General Fixes:
– Fixed the Ultra-Wide Screen resolutions
– Fixed lamp collision glitch
– Fixed achievements: True Predator, Let the adventure begin, Lazy Bones, Great Explorer
– Various fixes of tools on the cleaning table
– Fixed problem with loading some steam workshop expositions
– Changed video codec to support different windows versions
– Fixed possibility of unloading equipment to early in tutorial
– Synced lector voiceover on Museum start scene
– Fixed T-Rex bones sometimes missing in prologue
– Fixed random black screen after completing skeleton
– Fixed excavation point changing color after car parks
– Fixed uninspected bones name in Knowledge tab
– Fixed experience points depending on crate count
– Fixed saving voxel terrain after leaving the location
– Fixed black screen sometimes appearing on laptop
– Fixed exiting station after sending bones to storage
– Fixed collider position of small disassembled crates
– Fixed wheel menu tool selection
– Added new particles to tools
– Updated Japanese and Korean Fonts
– Fixed crate delivering by drone
– Updated translations
– and other small fixes…
We keep working on the next updates. The first priority is addressing all your reported issues.
Kind Regards
Dinosaur Fossil Hunter Team