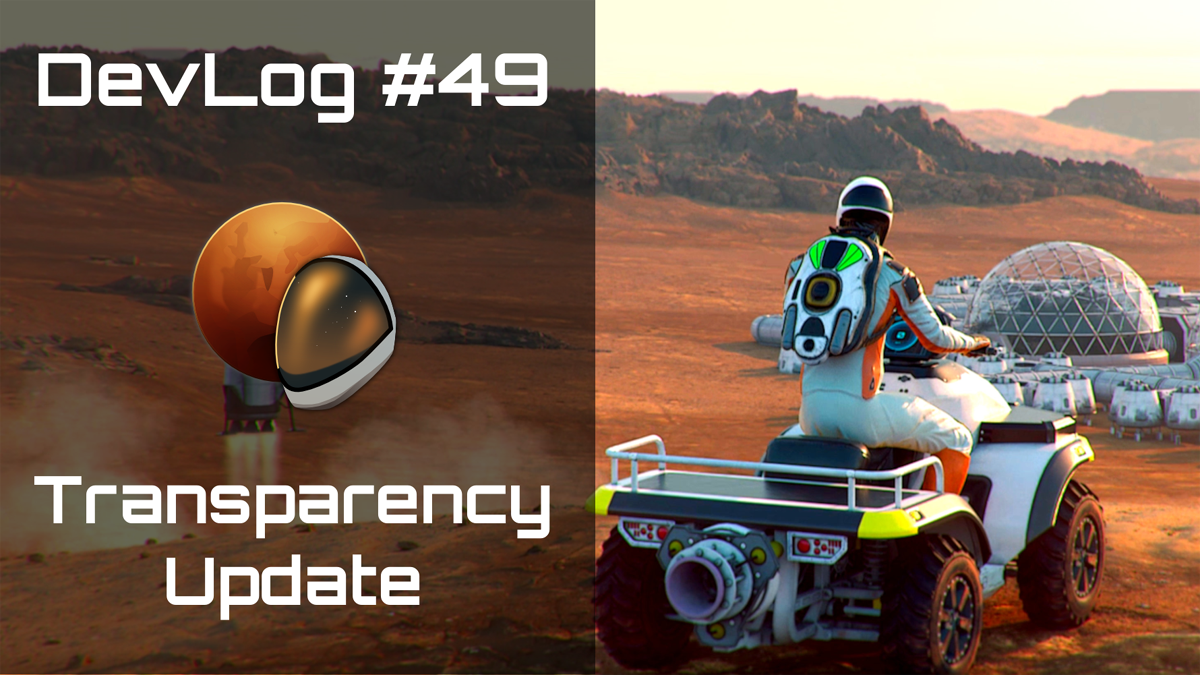 Occupy Mars Devlog #49: Transparency Update
Dear Martians!
In this post we want to lay all our cards on the table with the hopes that it will clear up any confusion or misconceptions that may have arisen over time. Also we want to show you our plans and what's ahead.
Our goal was always to make this game with the community and for the community and this goal hasn't changed since the beginning, however the road to get to this point was long and bumpy, and we weren't aware of many challenges related to building such a complex game when we first announced it.
Yes, the game was announced way too early.
Yes, we made mistakes in communicating with players.
Yes, the development took us way longer than we expected.
Yes, we've set ourselves deadlines in the past which we weren't able to meet.
Yes, we've overcomplicated a few mechanics and had to redo them many times.
Yes, we didn't have enough funding or experience when we started working on such an ambitious project.
Yes, we were naïve at the beginning. But we treated those stumbles as a learning experience and we never stopped working on the game.
Our story
We started working on the game in 2017 and the first specific release date we've set for ourselves was in 2019, but then we started to find more bugs and we quickly realized that without any demo or beta version we don't know if players will enjoy our game at all. We decided that making a Demo (preferably in the form of a free-to-play prequel – The Prologue) is the best way to gauge the interest in the game and to gather feedback about the gameplay as well as performance on different machines.
Aside from a few issues to fix, releasing The Prologue in 2020 was a success – both in terms of gaining the community's interest and the percentage of positive reviews. Our plan at that time was to release the Early Access a few months after the Prologue with all the buildings available at the time unlocked and without translations other than English. But an overwhelming feedback from players and from investors made us realize that the expectations for this game are a lot higher and that with additional funding we were able to gather, we could not only add translations, but make this game a lot better overall – that's why we decided to postpone the 2020 Early Access release.
Then we focused on: updating the Prologue, making the workshop in-game bug reporting system, fixing reported issues and adding translations to the prologue. Later we switched our focus to upgrading the main game – especially the graphics, upgrading the engine version and re-making, among other things, new vehicle physics, detailed player creator and a new, more realistic terrain system. Basically the whole game was reworked to be better, more detailed and more realistic but it took more time than expected.
Fast forward to 2022 – a year of Occupy Mars: The Game Early Access release (as we initially planned). In the first quarter of this year we launched Beta Playtest Signups and over 30k people signed up to the Beta in less than a month. We can't select which of those people gets Beta Access, we can only select countries and type the number of people. After overwhelming feedback from the Prologue we knew that for the Beta we needed a slower approach. We prepared detailed feedback forms and started letting people in – a few hundred more with each build – in order to have time to read their feedback after each build and fix reported issues.
The majority of people were still waiting for access mostly because translations for languages other than English were not ready and also because we realized we need to completely re-balance the Freeplay sandbox mode to allow more gradual progress of Technology Trees (not easily doable in the Early Access phase – doing so would make the gameplay completely different, and such an update would render all previous saves invalid, which we wanted to avoid). This turned out to be another daunting task which consumed many months of this year. Simultaneously our team grew and we divided our work into sub-teams (one focusing on the campaign mode which was not enabled in the beta, another one on the core functionality, another one on the initial Co-Op mode development etc).
Suddenly we are in Q4 and we were strongly advised (by people much more experienced in the gaming industry) against releasing in the "hottest AAA timeframe" which is around Christmas / last months of the year. Meanwhile we also had to prepare graphics materials and build pipelines in preparation to simultaneous launch on Steam, Epic and GOG. Therefore January 2023 became the new date for Early Access release.
The case of Publisher – do we have one or not after all?
This story is also more complicated than it seems. Most people don't know that PlayWay is not a typical publisher. They help companies like ours at an early stage, they share their know-how but they don't "Publish" the game for us in the normal meaning of the word – we Publish it on our account with their guidance and advice, but we are still a small team without a marketing budget.
That being said, we don't rule out the possibility that we will look for another / external publishing partner because we are aware that without a marketing budget for advertising on release – all these years of development may go for nothing if not enough people know about the game.
We want to keep expanding this game after the Early Access release and add the Co-Op mode, but for that to happen the release needs to sustain us financially well enough so that we can keep the lights (and computers) on for the Mars team for the next 6-12 months. So while we aim for the January release, if we find a publisher who can support us, there is a possibility the game will get delayed to fulfill publisher's suggestions; otherwise we will be releasing the game ourselves according to plan – in January.
Beta Status
The Beta is still ongoing, we are still working on translations and the rebalance changes mentioned above and we will open the beta to more players when it's feasible for us to do so. The game will be much better after those updates. The beta will be finally disabled the day before the Early Access launch. You can follow the beta changelogs here.
Upcoming Kickstarter
We have prepared a Kickstarter Campaign to be launched very soon which will help spread the word about the upcoming release of our game. It will also help us determine the next steps. Depending on the unlocked campaign goals we will set the priorities of updates after Early Access release.
Preparing the Kickstarter campaign was also an opportunity to create unique perks and rewards that we want to make available to you as a thank you to our loyal community. Make sure to follow the Kickstarter Page to get notified on launch.
Roadmap
That's not all, because we are working on a Detailed Roadmap [WIP] showing much more information about game's current state and what functionalities and mechanics we plan to add in the future.
This is only the first version of the roadmap, we want to update it together with you – our community, and it will definitely be updated after the Kickstarter campaign.
Weekly Streams
Since March 2022, every Thursday evening (at 5pm CET) we are doing regular weekly streams (Chat & Pizza with developers) on our Twitch and Youtube channels where we are showing progress of the game and where curious ones can take a peek at the current state of the game.

Monthly Devlogs
We'd also like to remind you that the Monthly Devlogs are also a thing and we'll keep publishing them on Steam. The Devlogs are dedicated to Early Access content, and generally what's happening in the team, not only about the Beta. Scroll down to read them all here.

Summary
So this is our story, sorry for a longer devlog than usual.
As you can see it was rough – but we've made it so far and we have no intention of giving up now!
And now we are entering the final preparations for the January release.
We want all of you to enjoy this game and expand the Early Access together with us.
We aim to give you the best game we can, but we are aware and ready for the needs for improvements that might arise after our Early Access release. The game won't be perfect on release (that's what Early Access is for after all, to iron out such problems), but we want to focus on the future and be as open and transparent as we possibly can. We know we did a lot of things wrong, but this update is our first step towards repairing that.
Yours,
Occupy Mars Team