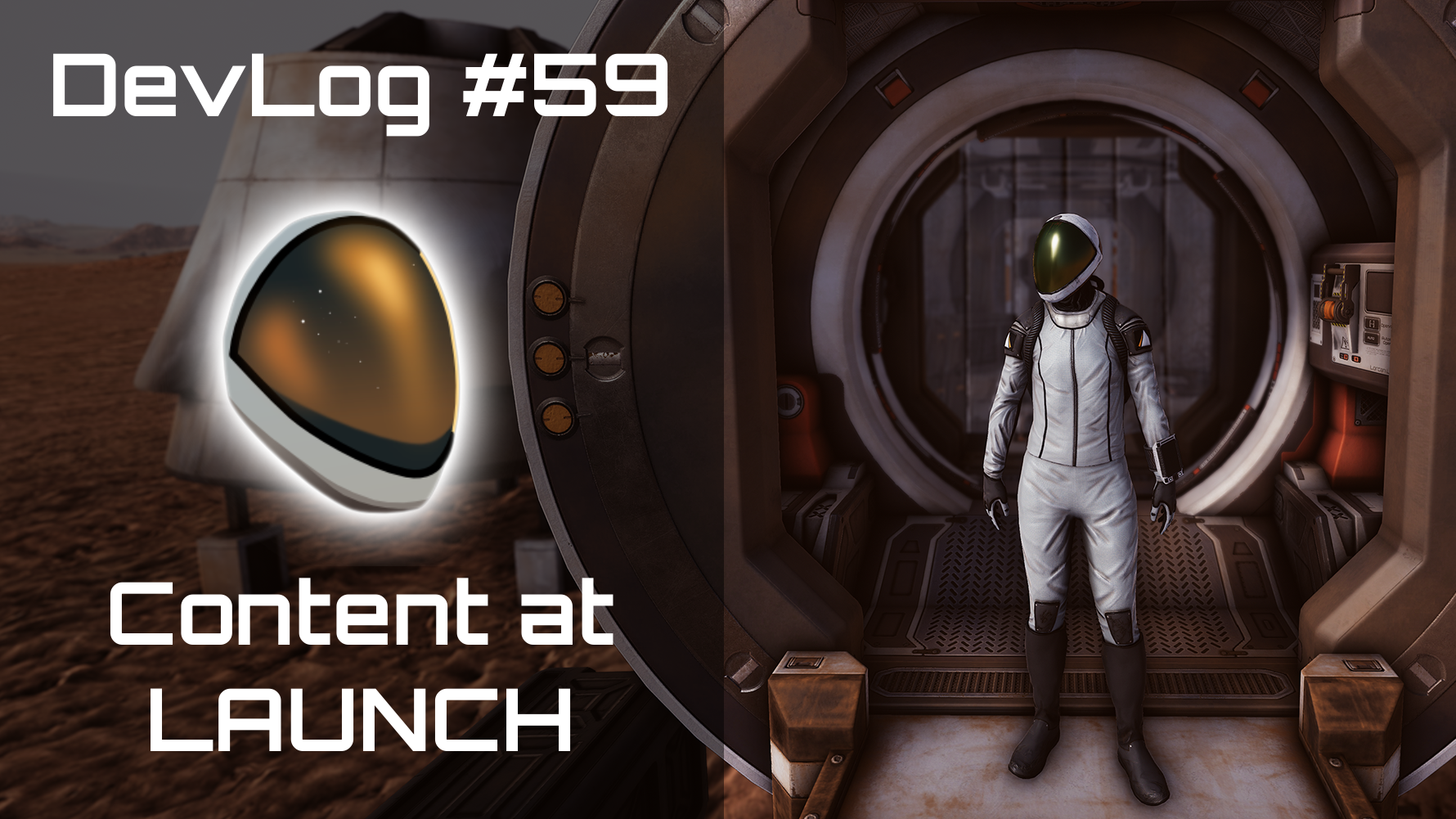 Occupy Mars DevLog #59: Content at Launch
Dear Martians!
We're getting ready for May 10th and we'd like to share a few more details with you.
All our Kickstarter Backers who supported the project and who had Early Access key listed as one of the rewards for their pledge will be happy to know that we're currently sending out keys! Please check your e-mail inboxes! Keep in mind that even though you receive them a little ahead of release time, keys will become active at the moment of Early Access release on May 10th.
You can follow the countdown clock on our official website: occupymarsgame.com
We'd like to thank our 12,000 Beta testers for their contribution to the Beta Playtest phase. Thanks to you, we've received plenty of invaluable feedback and managed to greatly improve overall game experience. Beta Playtest version will be available until May 8th so this is the last weekend to play it.
On Monday this particular version will be disabled in preparation for Early Access launch.
We have also determined a final list of features which will be available on Early Access release, and other functionalities which will be subsequently enabled in the next updates according to our updated roadmap.
The features which will be available on launch day include:
Language versions available on launch: 10
English, Polish, German, French, Italian, Spanish, Turkish, Russian, Portugese, Chinese.
(we are also working on Ukrainian, Romanian, Dutch, Japanese and Korean but those are not ready and will be added in an update later)
Game modes available on launch: 3
Campaign Mode (introduction to the story with NPCs and cinematics!)
FreePlay Sandbox Mode (procedurally generated gameplay where you can select difficulty level, starting location, starting equipment, intensity of weather conditions and other parameters)
Tutorial Mode: E.R.A. Virtual Training: 6 Tutorial scenes
and of course detailed character creator!
(the continuation of the Campaign mode, more tutorial scenes, as well as an Online Co-Op mode will come to the game later in the form of updates)
Technology Trees available on launch: 4
Botany, Electricity, Materials, Mechanics
(the Chemistry tech tree will be added later as an update, also some technologies in each tech tree are locked and will be added after early access launch)
Vehicles available to build in the game at early access launch:
ATV Quad (with upgrades), Ingenuity Helicopter, Jetpack and Heavy Rover with 2 types of trailers.
(Motocross and Truck still require some driving adjustments so they will be enabled later)
Available tools:
Air Compressor, Blowtorch, Grinder, Jackhammer, Seed Tool, Spectral Detector, Cordless Drill, Detonator, Fire extinguisher, Remote controller, pipes, cables and various building materials.
Plants available to cultivate:
Apple, Oxygen Tree, Poplar, Spruce, Pepper, Corn, Tomato, Potato, Lettuce, Cabbage, Pumpkin.
Weather events:
Sandstorms, Dust devils, Tornado, Solar storm, Meteor shower, Lightning Strike, Cold nights.
Tablet Functions:
Messages – new version of the quest log
Inventory – completely new inventory view
Blueprints – list of constructions to build
Tech Trees – technology browser and unlocking section
Knowledge Base – a goldmine of knowledge about Mars
Radar – useful for mapping surroundings and remotely controlling devices
additional tablet views include:
Alarm clock view – shown after clicking on a bed
Bluetooth Radio control – shown after clicking on a Radio (allows to play your own music)
Robots view – currently disabled as player can't yet own robots
Buildings available to build at early access launch:
Airlock, ramp, 2x leveling corridor joints, small solar panel, medium solar panel, transformer, transformer upgrade, battery, battery upgrade, lamp, 3x antennas, well, co2 scrubber, sabatier reactor, vertical tanks, horizontal tanks, pump, small rock crusher, big rock crusher / printer, greenhouse with hydroponics shelf, plant incubator, seed machine, composter, small dome, medium dome, large dome, workshop, living capsule, survival capsule, bathroom, various capsule adapters, lobby, cantina, main hab (HQ) with equipment, food processing unit, small 3d printer, bed, fridge, workbench, 4x science bench types for different technologies, the garage (hangar), anti-meteor launcher, 9 types of corridors (long, short, with or without windows, 90 deg angle and crossroads).
(more objects, buildings and vehicles will be enabled in subsequent updates)
Certain technologies in the game will be marked as "Beta" on launch – these features are a work in progress and as such, they will still be updated and changed. Some functionalities are disabled and as a result, certain achievements will be disabled at launch – the ones which will be disabled are listed below:
Life on Mars
Good Martian
You've got a friend in me
Rocket Scientist
The cake is a lie
Let's Cook
those will start working after more technologies will be unlocked in content updates.
We'd like to let you know right away that you're welcome to report any issues you encounter in Early Access. For this purpose, in-game reporting feature (triggered by F4 key) has been fixed and added to the Early Access version.
P.S. What's the first thing you'll do after arriving on Mars?
Watch the E.R.A. Corporate news below for some ideas 🚀
We are excited to see you on Mars!
Occupy Mars Team
P.S.2. May The 4th Be with you!